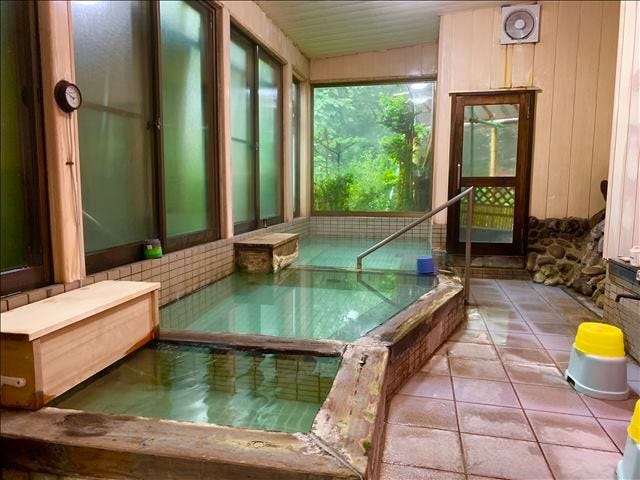 Our Bath
Our patented bath is called 'Shiriyaki-buro' (尻焼き風呂) which literally means 'bottom-burning bath'. This is because lower benches inside the bathtubs have small holes which gently jet out the hot-spring water to heat up your bottom. It was invented to simulate the old Kusatsu-style bathing and to bring its medical effect more efficiently.

We are tattoo friendly and rainbow friendly. If you have any concerns and questions please do not hesitate to ask.

Day-use is 1000 yen per person (Rental towels cost extra 300 yen).
We have two different public bathrooms for women and men. It can be swapped during your stay.
One of our public bathrooms has an outdoor bath. It is said to be the smallest outdoor bath in Kusatsu. How small is it? Come and check it out!
One private bathroom is available with no extra charge. It is good size for two adults.
Our hot-spring is sourced from Yubatake (湯畑 literally: hot-water field) in the town center. It is the largest of its kind in Kusatsu. Although Yubatake boasts abundance of spring water, it is supplied to only long-established hotels, as the right to hot-spring is hereditary and there are restrictions for obtaining the right anew. This means you can enjoy this exclusive and precious spring water that everyone wants at Kisirimaya-ryokan.